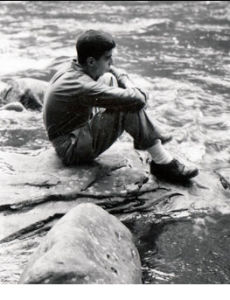 I grew up in Brooklyn, New York, and have been taking, developing and printing photographs since 1961. Starting out with my father's WWII vintage Kodak Medalist II camera, with its large "medium format" (2 1/4 X 3-1/4″) negative size, I have been behind many cameras since then, including a Rollei T and a Rollei 35 followed by a Pentax 6×7 that I still use today for black and white work. For many years, I used a Pentax K1000 for color, though in recent years, I have branched out to shooting color digitally with a Pentax K20D followed by a Pentax K7 and, of course, these days, on (many) occasions, a "smart phone" camera.
As a child, I was influenced by visits with my mother to MOMA and with my parents to the Kodak Gallery at Grand Central Station as well as by the Family of Man and U.S. Camera 1947, a book that was on our family bookshelf. In my childhood, my father, a printer and an amateur photographer, introduced me to the darkroom in our Brooklyn garage and, after I finished high school, helped me set up and use my own darkroom. After that, my photography has been essentially self-taught, without formal art or photography training.
Currently residing in New Jersey, I am a now mostly-retired lawyer in New York City. My remaining law practice focuses on special projects in affordable and cooperative housing, including cooperative financing and board matters.
Burt Allen Solomon
December 2018